DEWATERING SCREEN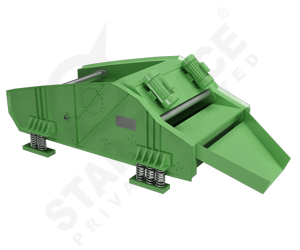 INTRODUCTION:
Whilst enjoying immense popularity for many years on small horizontal and inclined screens, STAR TRACE is the first company in the world to perfect this simple drive arrangement on large horizontal and inclined screens. This single development has resulted in tremendous advantages as far as reduced maintenance, compactness and simplicity are concerned. Besides the simplicity of the drive, many other features have been incorporated to provide machine which is specifically designed for heavy duty applications, long life, and low operating and maintenance costs, at a competitive price. The standard range of screens is presented later in the brochure, and these are normally available on short delivery.
OPERATION:
During material dewatering, water is filtered through the mesh as a result of vibration while the material is conveyed toward the point of discharge. The filtered water carries solid particles whose size is slightly smaller than the mesh openings, which must be recovered by means of hydrocycloning and incorporated to final product in the discharge area. The level of moisture that can be obtained in the end product is between 10% and 15%, depending on its nature, particle size distribution and water content in the feed materials.
When the two vibrating motor that installed vertically on the sieve relatively rotate, the eccentric block of two vibrating motors produce rated excitation force. The horizontal excitation force cancel each other out, the vertical excitation force is transported to the whole screen surface through the body mass vibration. Materials do the jumping movement on the screen surface to the outlet because of the vertical excitation force. Materials which smaller than the mesh drop into the lower layer and discharge from the outlet after doing the jumping movement. Because of the reasonable screen, after vibrating screen, we can get materials of different concentration particle sizes and done the rating work of materials.
CONSTRUCTION
SCREEN:
Screen, formed by modular polyurethane or stainless steel panels. The special design of these panels, with trapezial cross section mesh openings, together with their elasticity, revent obstruction and blocking. The result is a larger effective filtering area than in other types of mesh. Thanks to the modular design, the position of the mesh in the panel can be changed to ensure a regular wear of each panel.
VIBRATORY MOTOR:
These rugged, heavy duty units are exceptionally well insulated against the ingress of dust and water. Their IP 55 protection ensures that the units can operate in wet conditions, such as in washing and dewatering applications. A very generous holding-down bolt design is incorporated. A common complaint in the past has often been that vibratory motors tended to come loose. A great deal of thought and attention has been given to the fastening design of these motors. When compared with other makes of vibratory motors, the holding-down bolts are often in excess of 50-1 00% over designed. This, together with stress-relieved and machined surfaces and correctly torched nuts and locknuts, results in an exceptionally secure vibrator fastening system. When two vibratory motors of the same frequency are fixed to a rigid common base, which is freely suspended, or supported and run in opposite directions to each other, they automatically synchronise to produce a straight line motion. When this motion is applied to a screen, the result is a horizontal action screen suitable for screening, conveying and dewatering of a large variety of products in limited headroom situations.
Models of Dewatering Screens
DEWATERING SCREEN MODEL-1
Star Trace pioneered the use of vibratory motor drive on large horizontal screens with advantage to the user simplicity, compactness, and reduced installation and maintenance costs. By mounting the entire drive mechanism on the screen the following equiopment is made redundant: external drive motor, motor support structure, v-belt or cardon shaft drive connection, oscillator timing gears, and snubbers for protecting the drive component during start-up and shut-down.
Designed for either dry or wet operation, these machines give outstanding service in product sizing, degritting, medium-recovery, trash removal and desliming applications. Screen sizes range from 300x900 mm to 3000x9000 mm single and multi-deck configurations. Deck materials include perforated plate, woven wire mesh, polyurethane, rubber and wedge-wire. Accessories include dust enclosure, integral spray-pipes, and sub-frames to further isolate the screen supports from transmitted vibrations loads.
Non-standard screen sizes are manufactured to order and screens can be supplied in stainless steel and 3CR12.
DEWATERING SCREEN MODEL-2
Star Trace produces a range of inclined screen to suit specific requirements. Deck sizes range from 450 x 900 mm to 3000 x 9000mm. Machines up to 1200 x 1500 mm deck size are powered by single vibrator motor, simplifying installation and maintenance requirements.
Larger machines either employ the tried and tested externally driven single oscillator mechanism or paired vibrator motor. As with the Horizontal Screens, screening surfaces include punched plate, woven mesh, rubber and polyurethane panels. The machines can be supplied with dust enclosures, water sprays and sub-frames, integral under pans and oversize chutes.
DEWATERING SCREEN MODEL-3
Origination From The Successful Range Of Horizontal Screen, Star trace has developed a series of dewatering screens, Specifically designed for operation in product dewatering applications, Star Trace Dewatering Screens are providing the same benefits in wet-processing plants as the as the Horizontal Screens have given since 1977 .Powered by vibratory motors, Star Trace Dewatering Screens are manufactured in deck size ranging from 600 x 1800mm to 3000 x 6000 mm. Deck surface are either modular polyurethane panels or stainless steel wedge-wire to suit the individual application. AS Dewatering Screens are normally operated at 2 -5o upward inclination, Star Trace Dewatering screens feature supplementary drain panels in the back and side plates, to facilitate the removal of free water.
A 900 x 2700 mm Dewatering screen with polyurethane deck panels and wedge wire drainage panels, driven by two vibratory motors.
Detail of the feed end of a dewatering screen showing the sloped feed section and polyurethane deck panels.
Features
Individually Replaceable Cross Members
Instead of the old type of fabricated screen decks, all STARTRACE screens now incorporate a unique bolted deck arrangement. This means that when wear occurs and deck replacement becomes necessary, only the worn sections are replaced. This is far easier than stripping the entire screen and handling large, heavy fabricated frames. When polyurethane panels are to be fitted to screens up to and including 1 200 mm in width, the panels are located directly into the individually replaceable cross members. The panel and cross member, by direct impingement of the material being screened, is prevented. On larger screens, the cross members can be rubber lined for protection.
Angle Runner System for polyurethane Modular Units
One of the most common complaints with conventional frames for polyurethane panels is the premature wear of the pinholes in the deck, with resultant loosening of the panels. On screens over 1200 mm in width, easily replaceable angle runners are provided to secure the polyurethane panels. With wear, only those runners affected need be replaced, thus reducing costs and downtime.
Flat Bar Runner System for Woven Wire Decks
As in the angle runner system for polyurethane decks, the flat bar stringers are bolted to the cross members, resulting in an easy to maintain deck arrangement.
Automatic Alignment of Tensioning Bolts for side Tensioned woven wire Decks
The illustration show clearly the simplicity of this device. The swivel half cups automatically align the tensing bolts to the exact angle to accommodate various wire thicknesses.
Built-in, Lined Feed Boxes and Discharge Lips
The simplicity of the design of these built in items ensures that feed boxes and discharge lips cannot come loose.
Stress Relieving
The entire welded fabrication is stress relieved to ensure that all residual welding stresses are removed.
Screening Surface
The screens can be fitted with a variety of screening surfaces, such as punched plate, tensioned woven wire, polyurethane or rubber mats, plug-in polyurethane panels, or wedge wire panels.
Benefits
The advantages of STAR TRACE Horizontal Vibrating Screens is that use of the following equipment has now been rendered unnecessary:
Consistently dewatered product output
Oilbath oscillators, with synchronizing gears and oil leaks.
Motor support stand, or overhead structure for motor support.
Snubbers - the screen-mounted drive has eliminated the need for snubbers to reduce damage to vee-belts and external motors during the large oscillations that normally occur during stopping.
Bearing failure is limited to the bearing itself. Particles from a failed bearing cannot circulate in an oil bath and cause possible damage to other bearings and synchronizing gears. Compactness - screens can be positioned very closely with a minimum of space wastage. A vibrator motor needing reconditioning can easily be exchanged for a standby unit, with a minimum of downtime. Due to the absence of gears and vee-belts, the units use less power than conventional drives.
Key Benefits:
Consistently dewatered product output - typically less than 14% mositure content ensures product is ready for market straight from the belts.
Supplied with modular Polyurethane non-bolted panels as standard for maximum wear resistance and ease of maintenance.
Fully rubber lined discharge chutes for maximum wear resistance.
Marshmallow screen mounts to harness vibration on the screen and minimise its transfer to the supporting structure thus minimising stress.
Tow high frequency 3.6kw vibrating motors fitted as standard (2no 9kw motors standard on A-series) to ensure maximum dewatering.
Unique goal post design above vibrating motors provides additional plant safety by removing cabling from the motors and any other moving parts of the plant.
Specification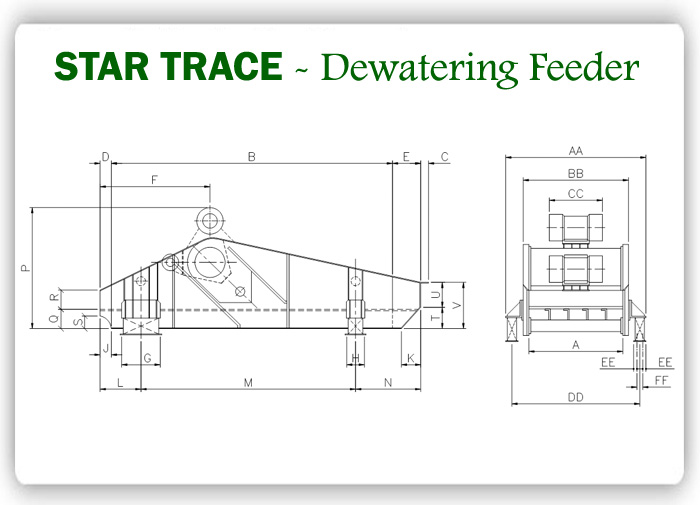 »
Click here
to view the detailed specification for Dewatering Screen