DOUBLE TOGGLE JAW CRUSHER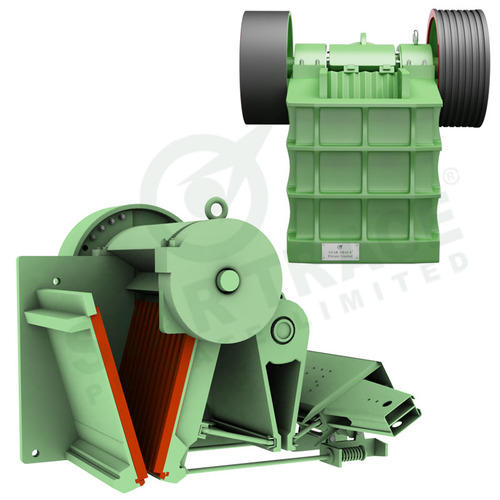 INTRODUCTION:
Double toggle jaw crusher, which has been widely used in mining, metallurgy, highway, railway and water conservancy, is one of the most popular equipments in the mining production. Jaw Crusher is one perfect Iron Ore Crusher Machine widely used in many industrial fields, such as building, chemical, chemical fertilizer, metallurgy, mining, nonmetal, abrasive, bearing materials, ceramic, steel, thermal power, bricks & tiles, coal industry, etc.Star Trace is one top Double toggle jaw crusher Manufacturer in India.
This Jaw Crusher's eccentric axle is divided into two parts, their eccentric distance are the same, the eccentric direction is opposite, in each part hanging a dynamic jaw head, the motor propels the eccentric axle through triangle belt by groove wheel, when the eccentric axle rotates, it makes the dynamic jaw do circle drip movement constantly according to the eccentric trail, on one side the dynamic jaw move to the fixed board to break the materials while the dynamic jaw departing from the fixed jaw board to discharge materials on the other side, alternative operation completes the whole process.
Double toggle crusher Features:
High reduction ratio
Even product granularity
Simple structure
Reliable operation
High reliability
Top crushing performance
Wedge setting adjustment
Fast and simple maintrnance
Easy and less costly to install
Excellent total crushing economy