ELECTRO MAGNETIC FEEDER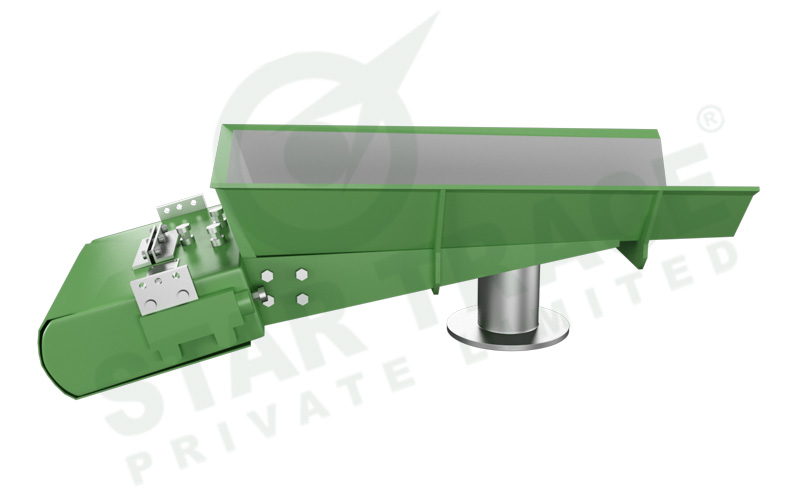 INTRODUCTION:
Star Trace vibrating feeder are used in processing industries for handling all types of materials such as hot, damp, lump, dusty or abrasive for various function like flow of material from storage, proportioning and bending, packing, mixing, weighting, sprinkling, scalping, crushing, washing, drying, heating, cooling, dusting, spreading, batching and etc.
VIBRATORY FEEDER
Known for their corrosion resistance and high performance, heavy-duty electromechanical feeders are used to increase the bulk handling productivity with controlled high feed rates which further results in improvement of cost-per-ton handling efficiency. These feeders include electromagnetic feeders, electromechanical vibratory feeders, inclined vibro grizzly feeder, vibratory furnace charger. These are ruggedly constructed to minimize the maintenance and improve the production efficiency.
All our feeders need separate controllers and have very dependable, flexible solid-state control. The feed rates are adjustable and the response is prompt. The electromagnetic design offers durable and reliable service. Drives are encased in dust-tight housings. Controls include a simple rheostat type variable speed controller.
CONSTRUCTION:
The Electromagnetic Vibratory Feeder consist of a tray made out of Mild steel or Stainless Steel and the body housing.
The body housing of the Vibrator is made from Heavy duty M.S.Plates.
As the Magnet get energized the Vibration sets the material in motion.
The controller of Vibrator gives the controlled flow of the material.
The housing of the Electromagnet is made in totally enclosed design make it dust proof.
HIGH-FREQUENCY VIBRATION:
With an appropriate deck slope, high-frequency vibration affords conveying speeds as high. This vibration is maintained even with varying line power fluctuation.
ELECTROMAGNETIC OPERATION:
Electrical pulses in the coils create a series of magnetic pulls that attract the armature and the deck. Restoring forces in the bar oppose each pull, causing the armature to spring away from the magnet. At an electrical frequency of 60 cycles per second, the armature and the deck operate at 3,600 times per minute (the vibration rate of the feeder). Material is moved by a series of "jumps" that correspond to the frequency of the vibrations. The distance the bars travel can be changed by varying the voltage to the coils. With this variation in the length of each "jump," or vibration amplitude, the conveying speed of the material on the feeder deck changes, resulting in a capacity rate that fits your requirements.
SUSPENSION MOUNTS:
These can take one of four forms, bonded rubber mounts, hollow rubber mounts, helical coil compression springs or helical coil tension springs. The type of mount is selected to suit the requirements of the installation and to provide a minimum isolation efficiency of 95%.
HOPPER FEEDER
APPLICATION:
The range of Hopper Feeders has been designed as a self discharging bulk storage hopper capable of storing and then discharging components or materials in a controllable, continuous stream. Particularly suitable for components or products that tangle or do not feed well from static hoppers, the hopper feeder eliminates many of the interruptions in production that can occur with more conventional systems.
MODE OF OPERATION :
Hopper Feeders are essentially closed two mass oscillation systems, sub-critically tuned. The vibratory drive unit and structure are designed to give an asymmetric displacement of the conveying plane which results in a progressively increasing product velocity towards the discharge end of the hopper. This motion prevents mass flow and creates an untangling and thinning out effect on the material / parts being handled, reducing them to a manageable quantity. Special low frequency, high amplitude units are available for products which are particularly difficult to handle.
ADVANTAGES:
Easy & stepless variation of delivery of material either manually or automatically possible.
Delivery remains generally constant in spite of fluctuations in supply voltage.
Drive is extremely robust and simple in construction.
Electromagnetic drive is dustproof and is impervious to moisture.
INDUSTRIES USING:
Abrasives Industries
Ceramics Industries
Chemical Industries
Fasteners
Fertilizers
Food Industries
Foundry Industries
Pharmaceutical Industries
Plastic Industries
Paper & Pulp Transportation Industries
Features
The following are the features of Electromagnetic Vibrating Feeders:
Exclusive vibrating technology
Small in size and light in weight
Simple structure, easy to install and use, low maintenance cost
High efficiency and feeding capacity
Good operational reliability and easy adjustment
Applications
Belt Conveyors
Vibrating Screens
Weigh Hoppers
Ball and Tube Mills
Packing Machines
Elevators
Crushers
Mixers
Kilns
The following are the detailed explanation on how our products are used in the industries:
Chemical:
Conveying of scrap plastic pallets of fiberglass in reprocessing system conveying and foreign matter from chemicals at bag dump stations.
Food :
Conveying of multiple ingredients for blending while conveying transfer of bulk ingredients from weight hopper to mixer, conveying freeze-dried of spray dried food product of storage area.
Foundry:
Conveying sand in primary and sand processing system, conveying small casting from out areas, conveying scrap to charging area.
Automotive:
Parts conveying in blanking and punching operations. Conveying parts to plating operation, flux conveying in a automatic welding machine.
Concrete:
Conveying dry ingredients (cement, sand, gravel) to weight batch hoppers. Distribution of steel reinforcing particles in concrete batching and mixing operations.
Steel:
Mill scale conveying units under strip and bar operations.
Specification
Technical Specification for Electromagnetic Vibrating Feeder
Type
Feeder Size
Width x Length
in mm
Capacity
TPH for material weighing
(100 Lbs/cu.ft) 1600 Kgs/cu.mt
Power Consumption
(Approx)
in Watts
VIBRO 101
315 x 500
1
175
VIBRO 202
400 x 750
2
300
VIBRO 303
630 x 780
3
475
VIBRO 310S
800 x 1000
10
500
VIBRO 420SS
1000 x 1250
20
550