ELECTRO MECHANICAL FEEDERS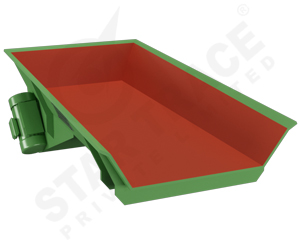 INTRODUCTION:
STAR TRACE Heavy-Duty Vibro Motor Powered Vibratory Feeder is a high frequency reciprocating machine of heavy duty capable on conveying bilk material from storage to processing or between processed at a continuous controlled rate flow.
Vibrating feeders are used in processing industries for handling all type of materials such as hot, damp, lumps, dusty or abrasive for various functions like flow of material from storage, proportioning and blending, packaging, mixing, weighing, sprinkling, screening, scalping, crushing, washing, drying, heating, cooling, dusting, spreading, batching and etc.
CONSTRUCTION:
VIBRATORY FEEDER:
Vibrating Feeder can be supplied with base mounted over hanging or combined single motor drive or with twin dual or Dual twin motor drive or with multiple drives to serve as vibrating conveyors. These feeders are having a tray mounted on the drive units. This drive unit is located beneath the tray.
VIBRATORY MOTORS:
Vibratory Motors used in Vibro feeders are totally enclosed 3 phase, squirrel cage induction motors with adjustable, eccentric weights mounted at the both the end of the shaft to set up vibrations during rotation. The design of shaft and the selection of bearing has been carefully done to withstand heavy radial loads. Two identical motors mounted parallel to each other on a right and left, which is free to move in all directions, will produce linear vibrations. When connected for contra-rotation so know this principle is adopted for handling large bulky material in large feeders.
WORKING:
This vibrator motor stator frame is fabricated in steel or cost in spheroid graphitic iron and the windings/connections are properly reinforced to with stand the heavy vibrating forces. Vibrator motors can be adopted for conveyors and feeders for handling large quantities of materials is moved by linear force along with conveyor. Usually vibrator motors are fixed at an angle between 30o to 45o to the plane of the conveyor. This gives the system both upward and forward motion and horizontal vibrations to the tray which ensures a free, smooth, uniform and volumetric flow to the material that is fully variable.
Heavy-Duty Vibrating Feeders are available in a variety of trough size and shapes as per IS:8723 -1978. The vibratory tray is heavily fabricated duly stiffened with angles wear resistance plate can also be provided in the tray for varying abrasive materials. Tray can be made to suit individual's requirement. This can be made dust tight too.
OPTIONS:
Feeders can be mounted on high tensile steel springs or rubber anti vibration mountings.
Adjustable feet angle to vary angle of feed.
Variable feed control.
Retro fitted to suit existing or new plant.
Features
Stable vibrating.
Adjustable excitation force.
Equipped with vibration motors.
Reliable operation, long usage life.
Simple structure.
Light weight, small size.
Convenient to install and maintain.
Enclosed type can prevent dust pollution (optional).
Stable and convenient control of flow.
Vibrating motor as excitation source.
Low noise.
Low power consumption.
Good adjusting performance and without material splash.
Open or closed design - standard or tailor-made to suit your job.
Designed to meet the current requirements for effective and gentle dosing and feeding processes.
Designed for continuous operation - no regular inspection or lubrication is necessary equal to negligible maintenance..
Benefits
Ruggedly constructed & Long- Life service.
High reliability & Very steady operation.
Low-power electric motor.
High vibrating stroke.
Minimal maintenance & no safety cables required.
Bolts directly to hopper outlet flange.
Reduced installation and start up costs.
Rapid and smooth starting and stopping.
Safe and stable vibratory feeder operation.
Driven by conventional asynchronous motor.
Optional Controller for varying the material flow rate.
Ensures proper feeder and chute work clearances.
Single package - including vibratory feeder, chute work and supports.
Integrated chute work options are available for both electromechanical and electromagnetic vibratory feeders.
Specification
Technical Specification for Electromechanical Vibrating Feeder
Type
Feeder Size
Width x Length
in mm
Capacity
TPH for material weighing
(100 Lbs/cu.ft) 1600 Kgs/cu.mt
Power consumption
(Approx)
in Watts
VIBRO 101
315 x 500
1
175
VIBRO 202
400 x 750
2
300
VIBRO 303
630 x 780
3
475
VIBRO 310S
800 x 1000
10
500
VIBRO 420SS
1000 x 1250
20
550