FLIP FLOP VIBRATORY SCREEN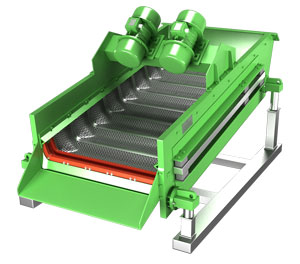 Star Trace is one of the leading manufacturer of Flip flop vibratory screens. Screening the bulk material is an important process. In order to screen the bulk material in difficult products like damp, stalk and leaf materials or matted substance Flip Flip screen is being used.
Working Principle:
Star Trace Flip-flop vibratory screens expand upon the traditional linear vibratory screening method and the conventional circular vibration screens by combining the two motions in order to create dual vibration movement. These flip-flop screens are highly effective because with the aid of resonance they use only one drive to power the dual vibration, and because they come fitted with the latest screens, which are proven to be extremely effective in screening all manner of waste material.
Features & Benefits:
Low maintenance and operating cost.
High availability of screening machinery.
Compact and modular construction..
Single or multi deck type
Applications:
Sand & Crushed Stone.
Iron / Bauxite / Copper Ore.
Coal, Coke & Iron Ore Fines.
Limestone & Dolomite.
Basalts & Gypsum.
Municipal Solid Waste.
Construction & Demolition.
E-Waste recycling.
Wood Chips, Sawdust, & Wood Flour.
Bio-Solids.
Shredded Materials.
Chemicals.