HAMMER MILLS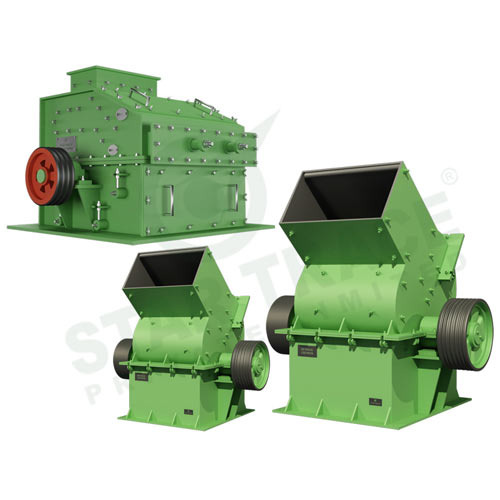 INTRODUCTION:
The material crushed by the Hammer mill through the collisions between high-speed hammer and materials. The Hammer Mill were developed for both dry and wet crushing of brittle, medium-hard materials for the mining, cement, coal, metallurgic, construction material, road building, and petroleum & chemical industries.
Working Principle:
The motor drives the rotor rotates of the Hammer Crusher at a high speed through the belt, and on the rotor there are series hammers. When the materials get into the working area of hammers, they are crushed by the rotating hammers of the Hammer Crusher with high rotation speed, the products which are crushed to meet the required size can be discharged by the outlet and become the final products, the large size products are brought back to the crushed area by the hammers of the Hammer Crusher for being re-crushed until they reached the required size.
Advantages:
High crushing ratio
High fineness of discharging size
Simple operation process
Low running cost
Simple structure, high efficiency, light equipment quality and easy to operate and maintain
Application:
Hammer Mills is used in areas of cement, construction material and mining industries for the materials with breaking strength no stronger than 200Mpa. The size of feeding material is up to 450-1000mm and the average discharge size is ≤5-8mm, which is controlled effectively by multi-mode elastic adjusting mechanism.
Technical Specification for Hammer Mill:
Further Reference to the above, below Specification Is for Sample Only.
Our Product Is Customized One It Will Change as per Customers Requirement
Make : Star Trace
Equipment : Hammer Mill
Size : 800 X 800
Material in Size : 60 Mm
Material out Size : 22 Mm
Capacity : 10tph
Shaft : En8 Material
Linear : Harden Square Rod Welded Liner
Hammers : Harden Hammers
Chuke : Inlet and Outlet Chuke Provided
Frame : Ismc 100 M.S Channel Supporting Structure Provide
Motor Bed : Motor Bed Integrated
Starter : (Optional)
Motor Power : 30 Hp, 3phase, 415v, 50hz, 1440rpm
Machine Weight : 1500 (Approx.)
Scope of Supply : Hammer Mill, Motor, Pulley, Belt, Mounting, Frame, and Bearing Units.