HIGH FREQUENCY ULTRA FINE VIBRATING SCREEN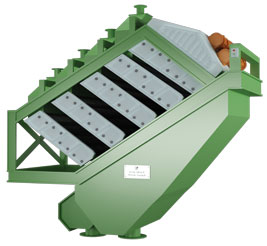 MAIN FEATURES & ADVANTAGES:
Large process capacity, screening efficiency of up to 80%.
Multiple parallel, small occupancy, it can achieve maximum parallel rd, extend the original multi-feed principle.
Screen frame support by rubber spring suspension, low noise, power consumption, dynamic load device is small, so no special requirements on the installed base.
The use of force distribution to the ore pulp, the pulp flow rate to reduce screen surface to extend screen life while allowing the pulp evenly spread on the screen.surface, help to improve the efficiency of processing and screening.
Dual vibrator configuration linear vibration with patented technology recycling pulp, longer screening material flow region length, faster transmission speed, maximally screen the feed material of fines grade.
Configuration high quality, high opening rate, long life of proprietary products-anti clogging polyurethane mesh (fine mesh of 0.1mm). to ensure the lowest production costs.
Frequency design, effective control of particle size screening, more rational use of mesh grading.
Spray corrosion resistance surface treatment equipment, effectively extend equipment life, reduce the amount of equipment maintenance.
MAIN APPLICATION RANGE:
Iron ore, limenite ore concentration plantsUsed to size control and concentrate grading. High frequency vibration fine screen screening efficiency, the product is enriched under the effect of screening significantly, thereby increasing the selection of selected grade (concentrate grade can be an increase of 1% to 3%). As the classification efficiency improves, the average particle size concentrate thickness, so that the concentrate filter conditions improve, with cake moisture decreased 0.5% to 1%.
Tungsten Ore, Tin, Da Ore, Niobium Ore Concentration PlantsSuch ore are more brittle, heavy and thin screen can be used to replace high frequency vibration spiral classifier, cyclone classification, or with their combination of classification to significantly reduce between 8% to 15%, while the grinding system processing capacity of about 20 to 30%.
Glass Raw Material Quartz Sand, Feldspar Concentration PlantsQuartz rod mill product fractions are wide, angular and more difficult to screen. The use of high frequency vibration fine screen stables production of qualified products.
Kaolin Concentration PlantsUsed to control the final product size or high gradient magnetic separator before every coarse.
TECHANICAL PARAMETERS:
Vibration frequency 1,500 times/min.
Separation concentration 0.074mm.
Feeding concentration : 25 – 50% (determined according to material property).
Handling capacity : 30 – 300 tones/hour (different separation amount leads to different separation size).
Feeding loops : 3,4,5.
Screen surface incidence : 20 – 30* (determined according to separation size).
Mesh pore : determine mesh size according to separation size and material property.
Noise: - 80dB.
Ambient temperature : not exceeds – 20-40 C.
Feeding ways: three-way, four-way, five-way.
Vibration motor : three-phase, 230V/4, 400V-50HZ, customized by U.S. Martin Company, imported .
Electric vibrator exciting force 0-80,000N, adjustable.
Lubrication oil : special high-temperature oil.
Specification:
| | | | | | | |
| --- | --- | --- | --- | --- | --- | --- |
| Type | Vibration frequency Times/min | Separation size mm | Capacity Ton/ set.h | Motor kw | Screening area Sq.m | Dimensions mm |
| HFUFVS-33-1007 | 1500 | 0.074 -- 6.0 | 30-120 | 3.75 | 4.41 | 4050X1500X3500 |
| HFUFVS-44-1007 | 1500 | 0.074 -- 6.0 | 40-150 | 5.5 | 5.88 | 5000X1500X3900 |
| HFUFVS-55-1007 | 1500 | 0.074 -- 6.0 | 50-200 | 5.5 | 7.45 | 5650X1500X4200 |
| HFUFVS-33-1207 | 1500 | 0.074 -- 6.0 | 35-130 | 5.5 | 5.25 | 4600X1800X3500 |
| HFUFVS-44-1207 | 1500 | 0.074 -- 6.0 | 45-180 | 5.5 | 7.03 | 5200X1800X3900 |
| HFUFVS-55-1207 | 1500 | 0.074 -- 6.0 | 60-220 | 5.5 | 8.88 | 5800X1800X4250 |
HIGH FREQUENCY ULTRA FINE VIBRATING SCREEN:
The fine screen uses two mutually independent screening system components, which is two traditional fine screen mounted on the same movable frame. Driven by a vibrator, each system consists of two pieces of screen mesh and equips with pulp tank lined with wear resistant polyester between the screen mesh with sprinklers, the products on screen can completely reversed and cracked into pieces in recycled pulp making tank to separate crude and fine material.
Feeding Method:
The mandatory ore separating, a patent technology can spread pulp evenly on the screen to improve screening efficiency and processing capability.
Secondary Recycled Pulp Making Technology:
The nozzle of the device compensates water directly to one or more recycled pulp making tanks, and the screening material is completely reversed and cracked into pieces in recycled pulp making tank. When the material moves downwards along screen surface, the most effective wet classification and the uttermost material separation can be gained by repeated pulp making and various screening. It is especially remarkable that compensating water directly to recycled pulp making tank can avoid the quick wear of screen mesh via compensating water directly to screen surface and the crude-escape phenomenon of material on screen via penetrating screen mesh forcible.
High frequency ultra-fine vibrating screen with dust-proof structure
The fine screen uses the principle of multi-stage screening, with long screening material flow region and much quicker transmission speed, and can remove the fine-grained level material from the feeding uttermost, greater screening capacity and effect can meet dry screen sub-job requirements, open or full closed anti-dust structure with maintenance side door can be used.