HOPPER MAGNET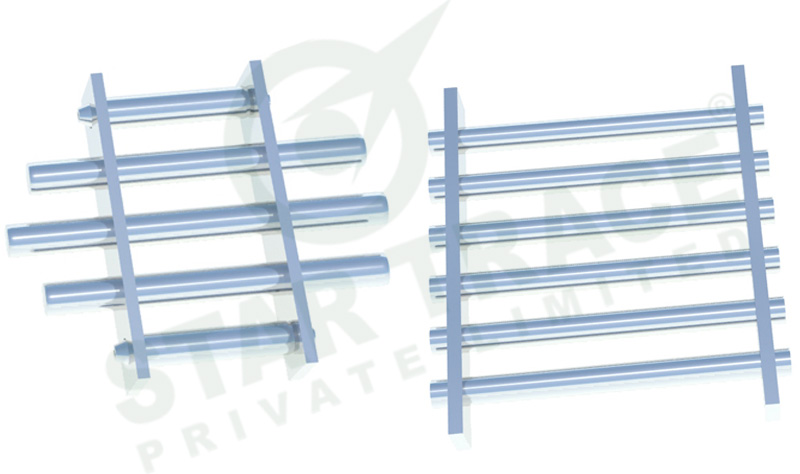 INTRODUCTION:
Star Trace Magnetic filters are made up of stainless steel tubes. Each tube consists of an array of permanent magnetic discs specially designed and configured to generate high magnetic forces. The filters can be supplied using either ferrite or rate earth magnets. The tubes have a diameter of either 3/4" or 1" or 1.5". The filters can be supplied in various sizes with width and length varying from 9 to 36 inches. Circular or rectangular shapes are offered. Customized sizes, shapes and design can also be offered.
Hopper Magnets are important magnetic separators, used for separating tramp iron or ferrous contaminants from free flowing granular materials. Our grill magnet are made of rare earth magnets or ceramic magnets. The magnetic grills are aligned in certain angles that attracts the contaminants. Available in various shapes and sizes, our grill magnets have wide applicability in various industries like chemical industries, food processing industries, mining and mineral industries plastic and ceramic industries etc.
Hopper Magnets offer excellent protection from metal contamination. As product flows over the magnetic tubes, captured metal contaminants are pushed to the underside of the tube where they are now out of contact with the product flow preventing was hoff back in to the clean material.
CONSTRUCTION:
The Hopper Magnets are made up of magnetic elements, which are fitted inside a required size frame. Magnetic Elements are made up of hard ferrite ceramic magnets or high intensity rare earth magnets. All the components are made up of Stainless Steel 304/316 material. The overall construction of the magnetic grills can also be made as per the customer specification and sizes.
WORKING:
As the material flows through the grills, the iron particles are attracted by the magnets and they are trapped over the surface of the element. The trapped material has to be removed manually after removing magnetic grills from its location. In case of self cleaning grills the iron particles get trapped over the extra sleeve provided on the elements, they get released as soon as the elements are pushed out of the sleeves.
TYPES:
Round Grill.
Rectangular & Square Grill.
Self Cleaning Hopper Magnets.
PRODUCT KEYWORDS:
Hopper Magnets also called as grate magnets, magnetic grate, drawer magnet, oil filter magnet, magnetic coolant filter, hopper magnets, filter magnets, grill magnet, rare earth grate magnets, drawer and housing magnet, housing magnet, magnetic system filter, magnetic dust filter, hopper magnets suppliers, hopper magnets India, peramanent Hopper Magnets hopper grill, magnetic grills in India, Rectangular & Square Grill, rare earth Hopper Magnets, Hopper Magnets manufacturer, ferrite magnetic filter, Hopper Magnets Manufacturers, grate magnets in housing, Hopper Magnets suppliers, injection molding hopper magnets, stainless steel grill magnet, Hopper Magnets Manufacturers india, Hopper Magnets india, Hopper Magnets Exporters, magnetic grate separators, magnetic oil filter, filter magnet, magnetic grids, hopper magnets, magnetic filtration, magna filter, magnetic grills, magnetic filters, magnetic trap, filter magnetic, magnet filter.
Types
The following are the types of Hopper Magnets:
Round Grill.
Rectangular & Square Grill.
Self Cleaning Hopper Magnets.
Applications
Ink
Plastic
Minerals
Chemical
Ceramic
Colors / Paints
Pigments
Refractory
Pharmaceutical
Raw materials, etc in powder form. They can be installed in hoppers, chutes, etc.,
Food Products.e.g. Sugar, Coffee, Tea, Grains, Pulses, Flour, Spices, Milk powder etc.