LINEAR VIBRATING SCREEN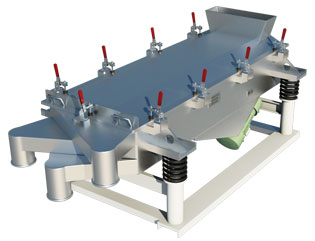 INTRODUCTION:
Linear Vibrating Screen uses vibrating motor as vibration source to make the materials be thrown on screen surface and make the sport straight line forward. This device can be equipped with single or multilayer screen to achieve the grading, impurity removing, powder sifting, testing and end washing purposes and so on. It main components: motor, screen, frame, in-feed hopper and output hopper, etc.
The motor through vee belt makes the eccentric of the activator start high speed rotation. Operation of eccentric block generates a lot of centrifugal force, stimulate screen forming certain amplitude circle movement. Materials on the tilted screen surface do continuous throwing movement after receiving the impulse given by sieving box. During the process of collision of materials and sifter, the grain which is less than the screen hole will be chosen so as to realize the grading.
Features:
Rapid to replace the mesh, rapid tension.
High efficiency, low noise.
The way that materials are on the screen surface is long, high screen fineness, large handing capacity.
Screen and classify materials, at the same time, transport materials in a long distance.
According to the particle size, probability through the sieve, productivity, we can change the screen spacing and dip angle.
We can design different sizes and structures according to the production site.
Application:
Chemical industry: resin pigment, medicine, grease, paint, palette, etc.
Abrasive material and ceramic industry: building sand, mica, alumina, abrasive, refractory material, slurry, etc.
Food industry: sugar, salt, alkali, gourmet powder, starch, milk powder, yeast powder, pollen, food additive, bean milk, juice, etc.
Paper-making industry: coated slurry, exhaust liquid, paper making liquid and waste water reclamation, etc.
Metallurgy and mining industry: quartz sand, ore, titanium oxide, zinc oxide, etc.
Mechanical industry: casting sand, powder metallurgy, electromagnetic material and metal powder, etc.
Specification:
Model
Capacity
Voltage(V)
Power(kw)
Amplitude(mm)
Size
T/h
STLV-0.4×1.2
≤0.3
6
380
0.4×2
2-4
STLV-0.5×1.2
≤3
7
380
0.75×2
2-4
STLV-0.6×1.2
≤3
8
380
0.75×2
2-4
STLV-0.7×1.5
≤50
12
380
1.5×2
2-4
STLV-0.8×1.6
≤50
14
380
1.5×2
2-4
STLV-0.9×1.8
≤50
15
380
1.5×2
2-4
STLV-0.9×2.4
≤60
16
380
2.0×2
3-5
STLV-1.2×2.4
≤60
20
380
2.0×2
3-5
STLV-1.2×3.0
≤60
24
380
2.5×2
3-5
STLV-1.5×3.0
≤60
28
380
2.5×2
3-5