M SAND PROCESSING PLANT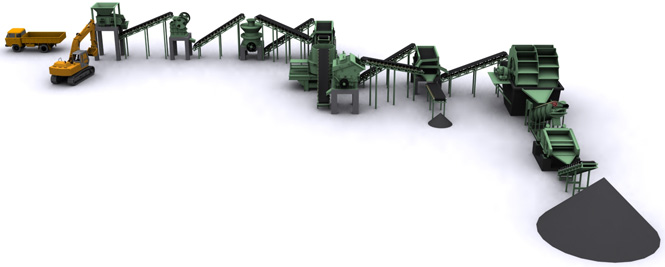 INTRODUCTION:
Star Trace offers turnkey solutions for M Sand processing plant. We are one of the leading project suppliers for M Sand processing plant and we work closely with our customers to fulfil their specific needs for a customized packaged solution. Specialized in the fabrication of these machines for 25 years and this enables us to be in a leading position in the field of M Sand processing plant & equipment.
The raw material is transferred to jaw crusher for primary crushing by vibrating feeder, then the crushed materials are transferred to sand-making machine through belt conveyor for secondary crushing. The materials crushed will be transferred to the vibrating screen. The materials with suitable size will be transferred to sand washing machine, after being washed, then clean final products will be discharged. The others with unsuitable size will be screened from vibrating screen, then will be transferred to the sand-making machine, this forms a closed circuit manifold cycles.Sizes of final products will be according to our customers' requirements. If it is the dry process, the classifier and deduster will be attached according to you requirement.
M Sand processing Equipments:
Grizzly Feeder
Jaw Crusher
Cone Crusher
Vibratory Screen
Vertical Shaft Impact Crusher
Horizontal Impact Crusher
Horizontal Vibratory Screen
Sand Washer
Screw Washer
Dewatering Screen
Belt Conveyor
Ball mill
Rod Mill
Water Treatment Equipments