MAGNETIC SWEEPERS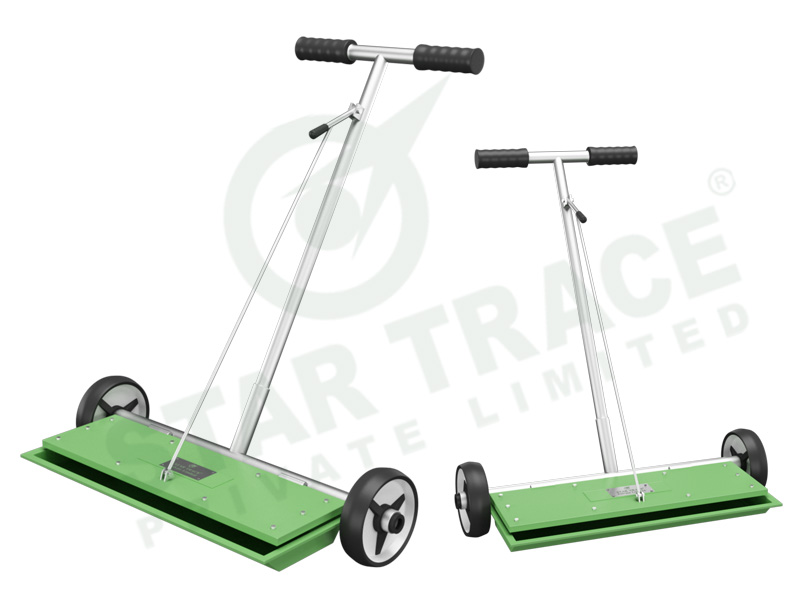 Our magnetic sweepers clear important traffic areas of dangerous scrap iron and reduce the possibility of costly flat tires or personal injury. We manufacture and distribute magnetic sweepers for any size job. Push type models clear airless and walkways with 12" - 36" sweeping widths, available with or without easy load release. Hang type sweepers (18" to 96" models) attach to trucks of fork lifts and will lift a 3 ½".
Long 16 penny nail from 5" off the ground! Our 72" and 96" trailer type sweepers tackle the really big jobs-roads, parking lots, runways and more. All models feature strong, permanent magnetism, quality construction and operate on paved or unpaved surfaces. We're your best source for magnetic sweepers.
Applications:
Widely used in workshop, parking lot, lawn, warehouse even air port.
Features:
It can work under different environments except high temperature condition.
Simple structure, elegant aesthetic appearance.
Easy to operate and easy to maintain, these powerful magnetic tools never need re-magnetizing.
The powerful magnetic field functions directory to the floor, can remove ferromagnetic materials completely.
Through the adjustment of handle, it can discharge materials faster and more convenient.
The Magnetic sweeper is simple to use, collecting any ferrous materials that it moves over. Once these materials have been picked up and are being firmly held to the internal magnet system, an integrated pull device is located within the handle, which lifts the magnet away from the extraction face, releasing the ferrous materials to your chosen discharge point.