INDUSTRIAL METAL DETECTOR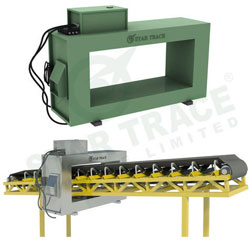 Aggregate Conveyor Metal Detector:
Applications:
(aggregate conveyor metal detector) whole log scanning custom build hex coils offer maximum sensitivity for whole log scanning. The fibreglass encapsulated coils are designed to accommodate two search coils at opposing angles. This provides accurate sensing of metal objects in all orientations.(aggregate conveyor metal detector)
Features:
(aggregate conveyor metal detector) simple to install designed for toughed belts, whole log scanning, chip conveyors and vibrating conveyors dual sensitivity rugged construction applications all sawmill applications including planer mills all mining, quarrying and brick making applications. All toughed belt conveyors carrying projecting burdens such as timber, waste plastic, textiles, quarrying and run-of-mine products.providing heavy duty industrial protection to valuable food products machinery.
Industrial Metal Detector
Specifications:
Supply: 220 v, 15 amp, 50 hz
Output: 100 millisecond relay closure or relay
Opening at time of metal detection current rating: 5 a, 230 v, ac, non-inductive load
Operating frequency: normally 10 khz (20 khz for high sensitivity application)
Object detection speed range: 1. 2 m/s - 10 m/s note:- technical data and specification subject to change.(aggregate conveyor metal detector)
Special metal detector can be made on request. please send us your's technical data and application, required for our engineers to provide.