Plate Magnets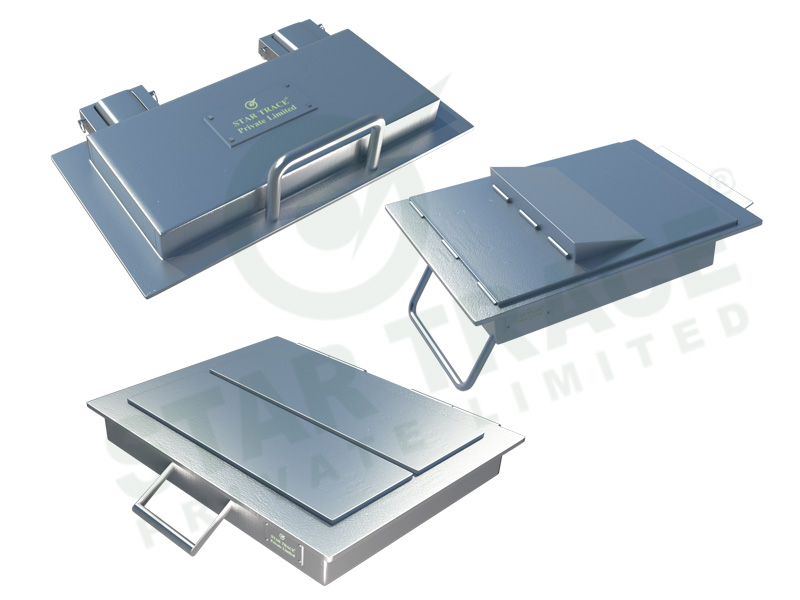 INTRODUCTION:
We are well-reputed manufacturer and supplier of brilliant quality stainless steel plate magnets using refined quality raw materials to ensure both quality of plate magnets and customers' satisfaction. Our company offers these permanent plate magnets at customers-budget friendly prices. We have highly qualified and experienced professionals who hold specialization the domain of Plate Magnets manufacturing industry. These magnets are designed for easy installation in your granulator's feed tray, and are an economical way to prevent tramp metal from damaging your equipment and contaminating your product.
FEATURES:
Low profile design for smooth product flow over the face of the magnet
Easy 4 bolt installation with mounting hardware (included)
PLATE MAGNETS
FLUSH FACE
Flush Face Star Trace Plate Magnets deliver optimum tramp metal separation performance when used in above-the-flow chute or belt application. When installed over the material flow, the powerful Flush Face plate magnets deliver continuous magnetic protection for down stream processing equipment by lifting ferrous tramp out of the product flow stream.
EXPOSED POLE
Star Trace's Exposed Pole plate Magnets are engineered to deliver high performance tramp metal separation in low volume applications. These applications are for below-the flow installations where the product flows over the magnet face.
Spout Magnets
Star Trace diverter Spout Magnets provide maximum ferrous tramp metal separation in high volume chute applications where wash-off can be a problem. Spot Magnets employ a primary diverter to prevent tramp metal "wash-off". A secondary diverter reduces product degradation by ramping the product over the downstream chute edge.
Self - Cleaning Spout Magnet
Star Trace's Self - Cleaning Spout Magnet provides ferrous tramp metal removal, in chute applications, with remote cleaning. Air cylinders are used to swing magnet and spout face away from chute. While the cylider is moving the Self-Cleaning Spout Magnet, the spout face stops. separating it from the magnet. Once the magnet is separated from the spout face the collected tramp iron is discaded. Air cylinders return both magnet and spout face back to operating position.
Rare Earth (Neodymium) Spout Magnet
Fine particle size separation is now available in a plate magnet. This magnet is substantially stronger than conventional plate magnets. Located in chutes, this rare earth ,magnet can capture weakly magnetic iron in dry or wet product flows. This magnet features two liquid tight diverters to prevent captured tramp iron wash-off. Manufactured in two different strengths and in widths to match your chute.
Flat Conveyor Plate Magnet
Ideal for wide conveyors, this plate magnet can be manufactured to match your conveyor width. Available in several thicknesses and strengths to effectively remove tramp metal that has fallen on the conveyor. Located prior to packaging machinery. this plate magnet is currently being used for single layer products such as: cookies, crackers, chips, pretzels, textiles, fiber glass, etc. This magnet measures 6-3/16" long, with the product flow, by 1-5/16" thick. Manufactured in widths to match your conveyor.

Copyright 2014 www.startraceltd.com - India based Magnetics and Vibrating equipments manufacturer exporter.