RECIPROCATING FEEDER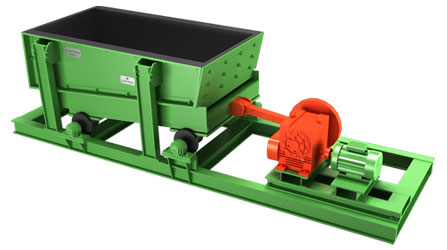 INTRODUCTION:
Star Trace Reciprocating feeder is a kind of machine that makes use of the linkage drag down dip 5 ° floor do straight reciprocating motion in a roll. It leads to the material ,such as coal or other abrasive small, loose granular with little sticky, powdery materials ,move from the feeding equipment into another feeding equipment evenly. The position of the crank can be regulated so as to achieve adjustment of feeding capacity.
Working Principle
Star Trace Reciprocating Feeder started automatically dragging the bottom whose inclined angle is 5 degree to make a linear and reciprocal movement on the idlers through flexible coupling, reducer, crank connecting rod, then coal drop continously uniform on the conveying equipment or in other screening equipment.This machine can be designed as reciprocal feeder with hopper and without hopper according to request depending on order. Besides it is used for coal feeding, also used for other small polishing and viscosity scattered materials.
Structure features
It is composed of the main frame, soleplate (coal feeding trough), transmission platform, funnel, paddle door and idlers. After the motor starting work, the soleplate with a tilt angle of 5 is dragged to reciprocate in a linear motion path on the idlers via flexible coupling and reducer,and discharging coal to other equipments.
Features:
Feeding amount can be conveniently adjusted at any time.
Simple structure and reliable performance.
Matching power and operating cost are both low.
Designed with no quick-wearing parts makes equipment maintenance quite convenient.
Occupies little space and requires just 1/5 the investment of medium plate mill.
Application:
It is mainly used for feeding various non-sticky materials.
Mining.
Construction.
Quarry.
Abrasive materials.