RIBBON BLENDER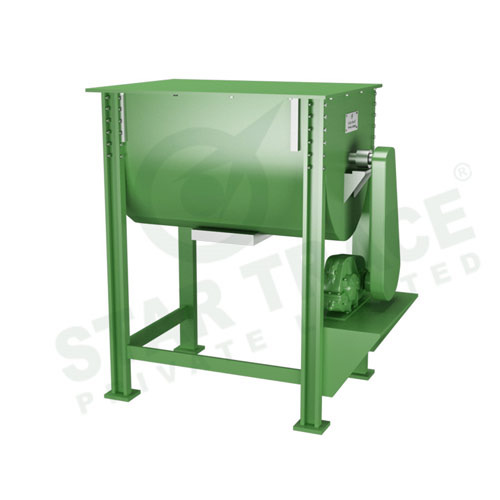 INTRODUCTION:
Star Trace ribbon blender comprises of U-shaped container, transmission parts and ribbon agitating blades which usually have double or triple layers with outside screw gathering the material from sides to center and inside screw transmitting the material from center to sides to form convection mix.
Ribbon Blender has a good result in the mix of viscosity or cohesion powder and of putting liquid and mash material into the powder. The cylinder cover can be fully open so as to clean and change the device.
Specifications:
Star Trace ribbon blender & Feed mixer machine is a high efficiency horizontal ribbon mixer.
Working Principle:
Star Trace ribbon blender & Feed mixer machine is composed of container, screw stirring paddles and transitional parts; the screw paddle are generally made into 1 layer or 3 layers, the outer screw converge is the material to the center from two sides, and the inner layer of screw conveys the material to the two sides from the center, so as to from convection mixing.
Features:
Big coefficient of loading
Small occupied area
It is difficult to clean when it is used to mix viscous or adhesive material.
Applications:
There are inner and outer ribbons in the U-shaped container. Special proportion of the two ribbons can be rectified with the kind of material, quantity and the proportion of body. the ribbon blender mixer is suitable for the mixing of slolid-solid powder material.it has good effect on mixing viscosity or cohesion powder. Horizontal ribbon blender mixer is widely used in chemical, pharmaceutical, chemical fertilizers, dyes, metallurgy, mining, food, gourmet powder, feed ,paint etc.
Characteristics:
Horizontal tube body, dual screw between inner & outer the special structure, running stably, high quality, low noise, long work life, easy installation, multiple functions. with guard net and lip Made of stainless steel. For different mixing requirements, use different screw structure, rapidly & thoroughly mixing. With a split window in the body for cleaning.