Tray Dryer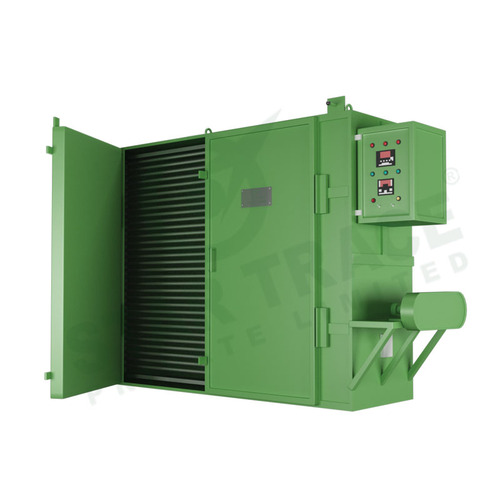 INTRODUCTION:
The Industrial Tray Dryers are small industrial systems which are highly demanded in the all industries. These dryers are equipped with air heaters and a fan that enables passage of air over the product being dried. Our this range of products is specially featured with latest and compact design which is very user friendly.
Once installed, these run flawlessly for a long period of time. Our research and development team is constantly doing research to innovate new techniques and path making solutions to offer latest Industrial Tray Dryers to our customers.
We hold an expertise hand in designing and fabricating Tray Dryer. Manufactured under the team of experts, these Dryers are highly appreciated by the Pharmaceuticals, Foods, Chemicals and other Industries.
Cabinet:
Cabinet of the dryer will be of 12/24/48/96 Trays capacity, made from MS angle frame of double wall construction lined internally with 18 SWG and externally 18 SWG MS sheet. The cavity formed in between double wall will be properly insulated with 60 mm thick Glass wool to prevent heat losses from dryer.
Doors:
Heavy duty airtight hinged doors made from 16 SWG MS sheet backed by 50 mm Glass wool on the inner side and ball catch locking arrangement together with 40 mm asbestoses gasket rope ensure very sturdy construction of the dryer.
Air Circulation:
Air inside the dryer is circulated by one heavy duty axial flow S.S.304 or alluminum blower fitted on a shaft of and driven by l H.P. through belt. The special design of the Blower ensures uniform air circulation so that there is uniform air current over the entire charge loaded in the Trolley inside the dryer. The working of the motor is indicated by lamps in the control panel.
Trays:
Trays will be manufactured from 1.6 mm SS 304 sheets. Its dimensions are 32" x 16" x 1 l/4". The Trays have rounded corners with' mirror finish from inside and outside. SS 316 quality is available on demand.
Racks and Trolleys:
Racks are provided for trays inside the Dryer. They are of fixed type for 12 and 24 Trays Models. For 48 and 96 Trays Models. Racks are provided with wheels to slide them in and out of the Dryer. An additional S.S, trolley for Racks for outside movement can be provided on request.
Control Panel:
Pre wired control panel will be consisting of Digital Temp. Indicator, Contactor for motor, Over current relay, Fuses, Indicating lamp, Push buttons, Main isolator switch etc.
Painting:
The dryer will be spray painted with two coats of high temperature resistance Aluminium paint and the outside cabinet have one coat of Red oxide backed by hammer tone finished paint.