Vertical Shaft Impact Crusher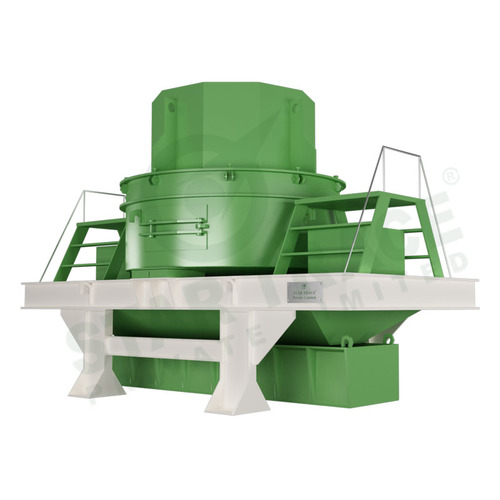 INTRODUCTION:
The Vertical Shaft Impact Crusher is also called Sand Maker .Star Trace develop this domestic,international ,advanced level efficient crushing equipment combining the actual situation in domestic sand making ,and it is based on the "stone hit stone "principle and technology .It is widely used in all kinds of hard and brittle materials for medium ,fine crushing .Such as ,rocks ,abrasive ,refractory,cement clinker ,quartz,iron ore and concrete aggregate and so on . And building sand ,building road gravel are the most appropriate.
Working Principle
Material falls down to impellor cavity. Under great centrifugal force, it hits material that coming downwards. After hitting each other, they force a vortex between impellor and shell, and hit each other several times, finally smaller stone comes out, and goes to vibrating screen. Satisfactory material is transported by conveyor belt. However overlarge material will go back to Vertical Shaft Impact Crusher to be recrushed. Output sizes can be made according to customer's requirement.
Features and Benefits:
Simple and reasonable structure, lost running cost.
High crushing rate, energy-saving.
It has fine crush and coarse grinding function.
It is little affected by the moisture content, and the content can get up to about 8%.
It is suitable to crush midium hard, hard special materials.
Excellent product of cubic shape, and small fraction of elongated flaky particle shape.
Small wear from Impeller liner, and easy maintenance.
Working Noise is lower than 75 decibel, dust pollution.