VIBRATION METERS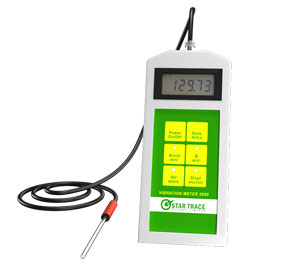 The Star Trace Vibration Meters 1050H is a handheld analog instrument designed for a large variety of vibration measurement applications. It can indicate True RMS vibration displacement.
The instrument is extremely easy to use: just connect the sensor, attach a magnetic base or the touch probe, contact it to the point where the vibration is to be measured, choose an appropriate scale, and the unit indicates the vibration reading on its analog meter.The instrument is suitable for a variety of vibration measuring needs such as for fans, blowers, turbines, generators, rotary or balanced opposed compressors, pumps, motors, alternators, engines, gearboxes, bearings etc.
VIBRATION MEASUREMENT
Vibration measurement on rotating machinery is normally done for two major applications:
Quality Control, and
Predictive Breakdown Maintenance.
In addition to the commonly understood QC application on motors, generators, blowers, or a host of rotating or reciprocating machinery, vibration is increasingly being used with enormous benefits for the second application : Predictive Breakdown maintenance.In continuously running plant, where sudden breakdowns can be disastrous, vibration is an immensely important indicator for planning an effective predictive maintenance strategy. Periodically observed vibration readings at strategic points on the machine will indicate a rising trend well before a breakdown occurs. This signals the need for taking timely corrective action. This will drastically reduce sudden and unexpected machinery failures, thus resulting in substantial savings in downtime.
FEATURES:
Hand- Held unit for General Purpose Vibration Measurement.
Accelerometer type sensor.
Touch type membrane switch panel.
RMS Velocity, Pk-Pk Displacement.
Portable and compact unit.
Economical, easy to use.
Analog Display Surface-mount technology for high reliability.
Rugged, suitable for industrial use.