VIBRATORY FINISHING MACHINE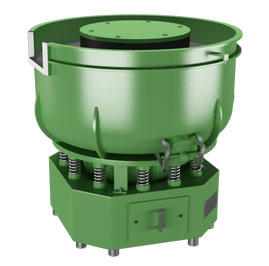 Vibratory Finishing Machine are suitable for de-burring, de-scaling, edge reducing, polishing, surface improvement, pre-plating finishing all types of components including fully machined parts in metals & plastics.
Working Principle:
The vibratory finishing machine for metal working has a ring chamber to hold abrasives and work pieces. When the machine is working, it makes three-d high frequency vibration. The grinding stones and the work pieces are rolling spirally forward and they are grinding each other during the rolling. This makes the work pieces de-burred, chamfered, polished and clean, to replace the traditional cloth-wheel polishing, the vibratory finishing machine for metal working can save a lot of spending on manpower, and lower the cost of production. It can also be matched up with mass production, improve and stabilize the quality of the products.
Application:
Mainly applied to metal parts, standard parts, apparatus, instruments, bicycles, sewing machines, hydraulic parts, bearings, auto parts, plastics, ceramics, non-ferrous metal products and parts industry de burring parts to rust, polishing rough, medium polished, fine polishing, bright polishing, especially for special-shaped part of the surface finishing are superior to specific functions, as it after finishing the parts